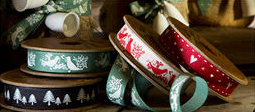 Looking For A Pre Christmas Bargain ?
Then we might just have the answer, this week we are giving our customers the chance to save 25% off there ribbon order when they order £40 worth of ribbons or more.
Simply select £40 worth of ribbons on either of our sites " www.simplyribbons.com" or "www.christmasribbons.co.uk" and use the promotion code GOLD12 at the checkout then 25% discount will be deducted from the value of your ribbons.
it's as easy as that!
When you checkout why not sign out to our Newsletter and then you will automatically be kept informed with regards all forth coming offers and promotions.
If you have any questions then please feel free to contact us at any time on 01691 780416.