Choosing Christmas Ribbons
The range of Christmas ribbons available can be quite overwhelming especially at this time of year !
So we have come up with a couple of ideas to help give our customers some help and direction when looking to buy ribbons for packaging and how to use up those annoying Christmas Ribbon remnants.
Keep It Simple
Have a think about the style of wrapping paper that you will be using, do you favour a plain paper or a heavily patterned paper?
If your using a paper with a bold print on it then why not consider going for a more under stated ribbon like a plain satin. This might sound boring but the effect can be stunning, and cost you a lot less.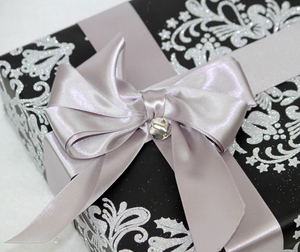 In the left hand image you can see we have used a plain silver ribbon with a heavily printed black and silver wrapping paper. This works well and the plain satin yet very simple gives a great classy finish to the parcel.We have even accented this with the addition of a small silver bell.
What About Christmas Ribbons For Plain Papers
Plain Christmas wrapping is not always as easy to decorate with ribbons as it might at first seem. Whilst there are now literately hundreds of Christmas Ribbon designs on the market place that will work will with a lot of plain papers such as the ones shown below. These don't always work as well as you might have hoped with the colour wrapping that you have left.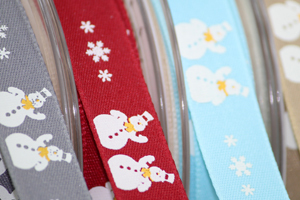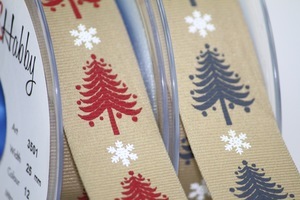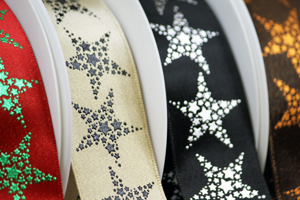 How To Over Come Problems With Plain Wrapping & Christmas Ribbons
As mentioned it's frustrating when you favourite Christmas ribbon won't work with the colour / style Christmas wrapping that you have left or that you want to use for that special person.
This is something that we have spent a little time looking at as we have the same issues when trying to photograph ribbons sometimes. Our solution is this.
If your Christmas Ribbon is not showing up and enhancing your parcel because the colour of the ribbon is getting lost or blending in too much with the colour of the paper then look at enhancing and lifting it by adding a wider plain ribbon underneath it to create a coloured border around you Christmas ribbon. We have put an example here.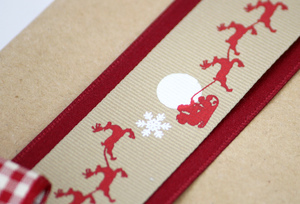 This is simple to do, just run your wider plain ribbon around the parcel first. We recommend applying a small amount of double sided tape just to hold this in place securely. Then run your narrower Christmas Ribbon over the top of the plain ribbon, again is a good idea to put a small amount of sticky tape underneath it to hold it in place securely.
Use Up Your Oddments Of Christmas Ribbon
If you're anything like us you always end up with a small amount of ribbon left that's not large enough to wrap any of the gifts that you still have left to do!
This is infuriating, yet easily solved why not use it as an accent ribbon on the parcel. The above image of a Birthday parcel highlights this well. With less then a metre of the lets party ribbon left we used a contrasting cheap plain satin ribbon and looped this around the parcel. We then looped the feature ribbon ( which is narrower ) over the top and fixed it in place with some double sided tape.
We then finished the parcel with a second loop of satin and added an off cut of Pink Barley twist cord to the bow as we tied it.
This meant that we used up two different oddments and at the same time created a fantastic looking gift.