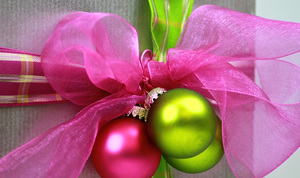 Something a little different here for Christmas Gift Packaging. After spending a large number of hours finding different ways to display our ribbons for seasonal photography we stumbled on combining some of our bright clearance sheer ribbon colours with other decorative ribbons to give a very alternative packaging look.
I must say that we were very pleased with this appearance and decided to further enhance this look with addition of some seasonal tree decorations. This turned some very bright and jolly ribbons in to a great Christmas Packaging look.
This got us thinking and we tried experimenting with a number of different width and colour combinations which all worked well. We have shown below an image of our take on a Christmas Gift Package using our Shocking Pink Sheer ribbon in a 50mm width together with a Regal Tartan Ribbon by Berisfords Ribbons we like this and hope that you do as well.
This look has the added bonus of use Sheer Ribbon from our Sale Section which is a nice quality woven edge sheer ribbon in a wide range of colours for a fraction of its normal price.