We are often asked by customers for help and assistance in explaining the different types of ribbon and what uses they are suitable for. Over the years we have seen a huge range of different uses and are never surprised by the application of our products.
With constant changing technologies there are more and more diverse products being produced on a regular basis, which gives the consumer a great but some times more bewildering choice.
Over the next few weeks we aim to try and address the different ribbon types and explain the differences between them and their most common uses and applications. To start with we have taken one of the most widely used ribbon, this being the Satin Family of ribbons, if you need any information on any of these products then please feel free to contact us at any time and we will be only to happy to see if we can assist with further information at any time.
Satin Ribbons
This ribbon type is probably one of the most widely used ribbon types around the world. It falls in to three styles of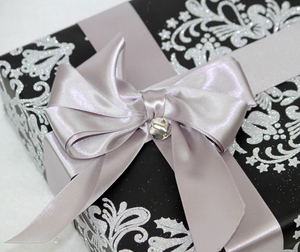 satin ribbon product, which are all slightly different these are, Double Faced Satin Ribbon, Single Faced Satin Ribbon and Cut Edge Satin Ribbon. Over recent years the popularity of these types of Satin Ribbon have changed and it is our opinion that with the development of manufacturing techniques the cost of making Double Faced Satin has reduced to the point where by there is little difference between the cost of both the Double Faced Satin Ribbon and the Single Faced Satin Ribbon, the net result being that the Double Faced Satin Ribbon has over taken the single faced in popularity.
DOUBLE FACED SATIN RIBBON
This ribbon is constructed from man made fibers, in most cases Polyester is used as it has great handling, washing and reflective properties. The way the ribbon is woven and type of fiber used then gives this ribbon is quality grade. This Double Satin Ribbon has the benefit of being smooth and shinny on both sides of the ribbon, hence the name 'Double Faced' as both faces are finished to a satin finish.
The ribbon is widely used in clothing manufacture, high end packaging, crafting and cake decorating – Where this product comes in to contact with a food surface then it can be treated with a Teflon application to make it food safe and to stop dyes migrating across from the ribbon to the food surfaces such as cake icing.
Since this ribbon is so popular it tends to be available in the widest range of colours, more so then many other types of ribbon product, many of the larger manufacturers will even make this product up to match specific pantone numbers if the customer needs large volumes. These normally need to be in excess of 5,000 metres.
Today some of the highest quality Double Faced Satin Ribbons are manufactured in Switzerland, they tend to be a closely weaved product with a heavy weight polyester fiber making the product drape nicely and giving it a soft and very smooth finish.
As standard we offer two good quality ranges of Double Satin Ribbons our Premium range is made in the UK by Berisfords Ribbons and offers 83 shades in nine different widhs, to view these use the link here. The other Double Satin range that we offer is made by Japanes company Shindo Ribbons and comes in a smaller range of 50 shades across six widths, again a link to this section can be found here.
SINGLE FACED SATIN RIBBON
Again a very popular product but one that we personally find is not being asked for quite as much as there is little price difference between the Double Faced Satin Ribbon and the Single Faced. We tend to find that it is still in high demand in the packaging industry where a nice satin like finish is needed yet the slightly rougher textured finish on the reverse of the ribbon means that any bows tried with it hold well.
In the same way this ribbon is asked for by crafting companies, florets companies and people making rosettes and home ribbon printing, as again the rough finish on the reverse of the product help the ribbon feed through the thermal printers well.
CUT EDGE SATIN RIBBON
This is product that we are no longer holding in stock and are only bringing in to order, in effect it is a very cheap satin ribbon which instead of being finished with a woven edge which stops the ribbon from fraying along the sides of the product it is cut out of a much wider roll. This method of production is cheaper and leaves a product, which has tendencies to fray along either of the unfinished edges. There is however a place for this product as we find that it still works well were the ribbon is not going to be handled much and is going to be disposed of very quickly. As a result it is popular between florists and associated trades as it gives a good temporary visual impact for a very low cost.
This product normally will not be machine washable and as a result can't be used for garment manufacturer or any of the other high-end applications of the Double Faced Satin Ribbon.
We hope that this information has been of help, we must stress that this article is only an expression of our own personal views at www.simplyribbons.com, if you have any thoughts or comments, we always welcome them