Our Version Of The Christmas Ribbon Wreath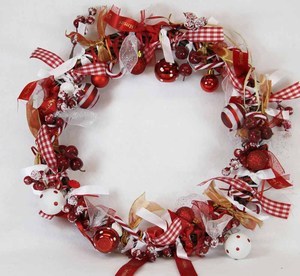 This ribbon wreath is easy to make yet looks very effective when made, its based around a willow hoop but any hoop will work, the size of the hoop used depends on how big you wish your wreath to be. We have used a ten inch hoop to make our wreath shown here.
We have used a red and white ribbon theme to decorate our Christmas Wreath but any ribbon colours will work and those used depend on personal preferences. There is no reason why you could not use a selection of off cuts.
How To Make Your Wreath
To make this Christmas Ribbon Wreath you will need;
A wooden Hoop,
Selection Of Ribbons
Ruler
Sharp Scissors
Embellishments Of Your Choice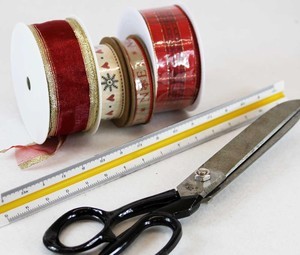 2. Baring in mind the size of your wreath / hoop work out how long your length of ribbon needs to be to so that you can knot them on to the hoop and so that the ends over hang by around 8cm from the knot to the end of the ribbon tails.
3. Once you have worked out how long the ribbon lengths need to be, cut your chosen ribbons to this length. As the image shows we have used a diagonal cut as this looks attractive when tied.
4. Now starting at the top of the hoop start tying on your ribbons remembering to mix the colours of ribbons as you work your way round. If your planning to add embellishments like we have then you can leave a number of small gaps between the ribbons.so you can glue these to the hoop.
5. When your happy with the look of the ribbons that you have tied to your hoop you can add your embellishments, we would suggest that you stick these on with a hot glue gun or craft glue.
Finished!
This project is very effective and can generate some very attractive Christmas Wreaths, you don't have to follow our instructions exactly as we sometimes find that even better results and looks can be created by altering things slightly and adding in your own twists and ideas. if you make one of these Christmas Ribbon Wreaths then we would love to see a photo of your creation,