Hardly a day goes by when we are not asked about ribbon printing by one or more of our customers, this is the ultimate in terms of bespoke ribbon making and one area that has no bounds. As a result we are pleased to be able to offer our customers a number of different printing solutions to meet there design needs.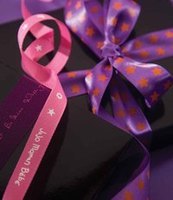 Screen Printing
For a simple impact, whatever colour you need, then screen printing is the solution that you might want to consider, it enables you to have a two colour design printed on ribbons between 5mm and 70mm wide. This method of printing enables the design to be repeated numerous times along the ribbon length. The maximum repeat lengths of up to 1000mm. All designs must have a minimum gap of 5mm for a 1 colour
print and 7mm for a 2 colour print.
One of the advantages of the screen printing method is that the ribbon with the printing can still be machine washed at up to 50 degrees, it can also be food coated so that the ribbon can be used in direct contact with food. For further information with regards the food coating please use this link and click here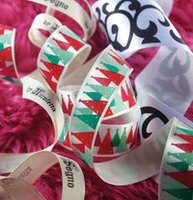 Rotary Letterflex Printing
This form of printing is extremely versatile which means that it can be used to create the some of the more demarnding briefs. As a result up to six different colours can be used on the one design. Like the Screen
printing method ribbons from 5mm wide up to and including 70mm wide can be printed on .
The design can be repeated numerous times with a minimum design gap of 2mm. The maximum repeat length for the design is 304mm for a one colour print and a maximum design length for more than two colours is 229mm.
Again like the screen print method this type of printing has the benefit of machine washable at up to 50 degrees. Once printed the ribbon can also be coated with a food safe coating to make the ribbon safe to use in direct contact with food.
The image opposite shows some examples of rotary letterflex printing, if this type of printing is of interest to you or you would like any further information then please feel free to contact us at any time on 01691 780416 or e mail sales@simplyribbons.com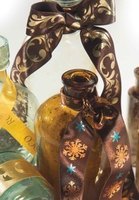 Hot Stamped Foil Printing
A very effect and more cost effective way to create a high impact printed ribbon. This method of printing enables you to have up to two colours printed on the ribbon in the same design in a gloss metallic finish such as Gold and Silver or any other colour ( available on request). Like the other printing methods this foil print can be carried out on ribbons between 5mm wide and 70mm in width.
Numerous repeats are possible and the maximum design length ( print area ) is 150mm and the maximum repeat length is 300mm. All designs must have a 2mm gap, the one down side with style of printing is that the ribbon can not be machine washed and can not have food coating applied to it.
As a result this style of printing tends to be more popular with the promotional market place as well as the packaging market.
Printing General Information
There are a number of general points worth knowing with regards to ribbon printing, must of which apply to all three forms or ribbon printing. The first is that the print runs are all subject to a minimum run sizes depending on the type of ribbon print required.
No matter which form of printing you are looking at there will always be an element of design work that will need to be carried out first and transposed in to print blocks or set ups. We then of course need to run a production sample for you to look at confirm that you are happy with and hopefully sign off on to put in to full production.
For some types of print there is a set up fee that is currently charged at the moment this is £50, this fee covers design work, making up plates and running through a full production sample. The lead time for this work is currently one week, with full production or an order taking a further week from the date of sign off. However if this time scale poses a problem please feel free to speak with us as we can some time shorten this.
there are currently three different types of ribbon base that can be printed on to these are as follows:
Satin Ribbon - As the name suggest this ribbon has a satin finish to it, it is smooth and slightly silky in appearance, this has always been a very popular base ribbon for printing on to and is quite cost effective it is available in a wide range of widths these are ; 5mm - 7mm - 10mm - 15mm - 25mm - 35mm - 50mm - 70mm. This ribbon also has the benefit of coming in the widest colour range as standard and boasts a range of 82 Colours
Grosgrain Ribbon A ribbon with a ribbed effect running across the width of the ribbon very popular for packaging as it ties easily and holds its shape and knot well due to the textured surface of the ribbon. Slightly more expensive then the satin ribbon but give a textured finish. The ribbon is available in 6mm - 10mm - 16mm - 25mm and 40mm widths. It comes as standard in a colour pallet of 35 shades.
Rustic Taffeta - A plain base with a natural look to it due to a slightly courser looking weave, this ribbon is used to great effect to generate a more vintage look or a linen look even though it is made from 100% polyester. As standard this base is only offered in two widths these being 15mm and 25mm however the popularity of this style of ribbon for printing on is taking off at a fast rate.
If you are interested in receiving a quotation for printed ribbon then all we need is an e mail with some basic details, giving us information such as the base ribbon you are interested in printing on , the ribbon width required and the number of metres that you would like. If you can attach a copy of any artwork you might have it would be of help. We will then contact you with some quotations and further information for you to consider.
to make life a little easier we have attached a quotation request form which gives all the information that we need in order to be able to provide you with a quotation.